Manitoba Hydro's response to COVID-19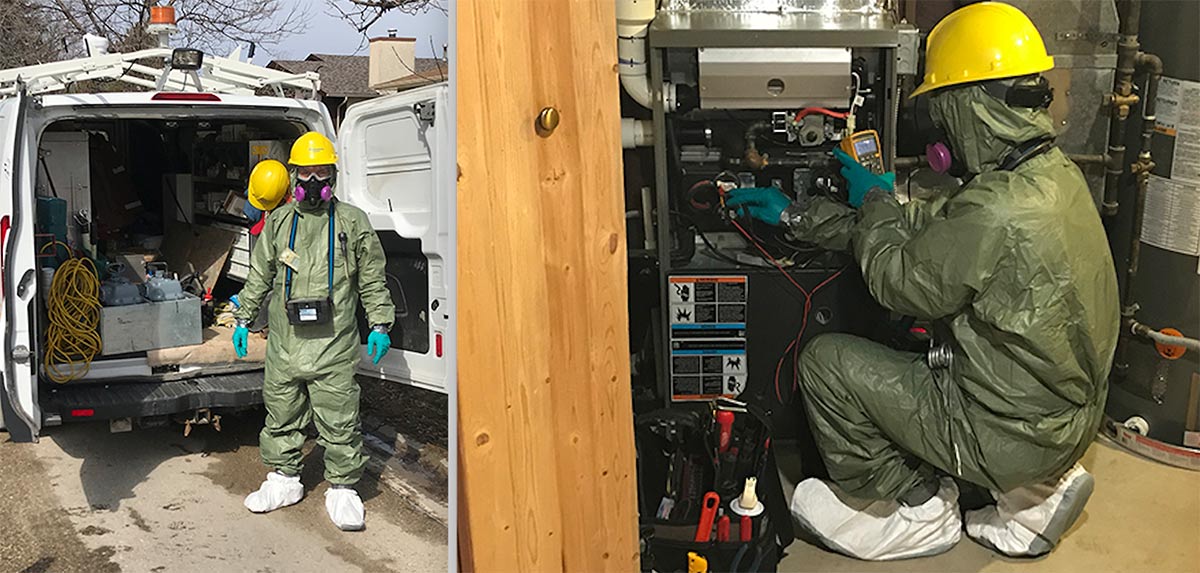 For a lot of our staff, personal protective equipment (PPE) has changed since the COVID-19 crisis. But for some employees, some of their PPE already fits the bill.
While many businesses close temporarily or navigate new ways of operating during a pandemic, our business at Manitoba Hydro continues. We're still building major projects and providing green, renewable hydroelectric power and natural gas to all our customers, inside and outside Manitoba.
In the face of a pandemic, providing reliable power and natural gas service is no different. What has changed are our procedures for maintenance, customer service calls, and construction to ensure the safety of our employees and our customers.
For maintenance operations, we've diverted all spare fleet vehicles to our field staff to allow them to be in trucks alone, and all repairs are done six feet apart to meet physical distancing health requirements. In our customer service, we've suspended all non-critical work such as indoor residential meter readings to reduce staff going in and out of houses. Staff who must go into customer homes (for natural gas or electric emergencies) ask several COVID-related screening questions prior to entry, wear appropriate PPE, and may ask customers to isolate in a different room if they're showing any signs of illness.
We've also closed all offices that would normally be open to the public, including our cash payment offices and customer service counters. For those experiencing financial hardships during the pandemic, we're waiving late payment fees and are offering flexible payment terms.
In operations, we have implemented appropriate physical distancing measures in all our facilities and offices. Shift changes happen in the parking lot. Office staff across the province are largely working from home, utilizing secure remote access technology. Meetings are held using teleconferencing, Skype for Business, or Microsoft Teams.
Construction methods have changed, too, but deadlines haven't. The last few weeks of construction on the Manitoba–Minnesota Transmission Project (MMTP) were physically distanced but still allowed us to complete the 500 kV line in time to meet the June 2020 in-service date.
We've also changed the way we work at the Keeyask Generating Station project site to protect both our workers and surrounding northern communities. Our Keeyask Pandemic Plan, endorsed by the province's Chief Public Health Officer, requires all out-of-province workers to self-isolate for 14 days and receive a COVID-19 test in Winnipeg before being cleared for travel north. Even staff coming into site from other locations in northern Manitoba are screened and tested for COVID-19 prior to being allowed onto the job site. The plan is very effective: there have been no positive test results for COVID-19 at the Keeyask site at the time of writing.
In addition, public areas in the Keeyask camp are cleaned and sanitized on a regular schedule, and all deliveries are contactless. Drivers must stay in their vehicles while site staff unload them; for envelopes and small packages, couriers deliver to the gates and our staff take them into site. There are no visitors allowed into camp, and once inside workers are not allowed to visit neighbouring communities.
The first generator at Keeyask is due to go online in October 2020. Even with a deadline to meet, the safety of our staff, contractors and surrounding communities is our top priority.
The pandemic may have changed our procedures, but not our ethos. The safety of our employees and customers is paramount, and we will continue to ensure safe, reliable service for all our residential, commercial and utility customers.