Building Keeyask builds opportunities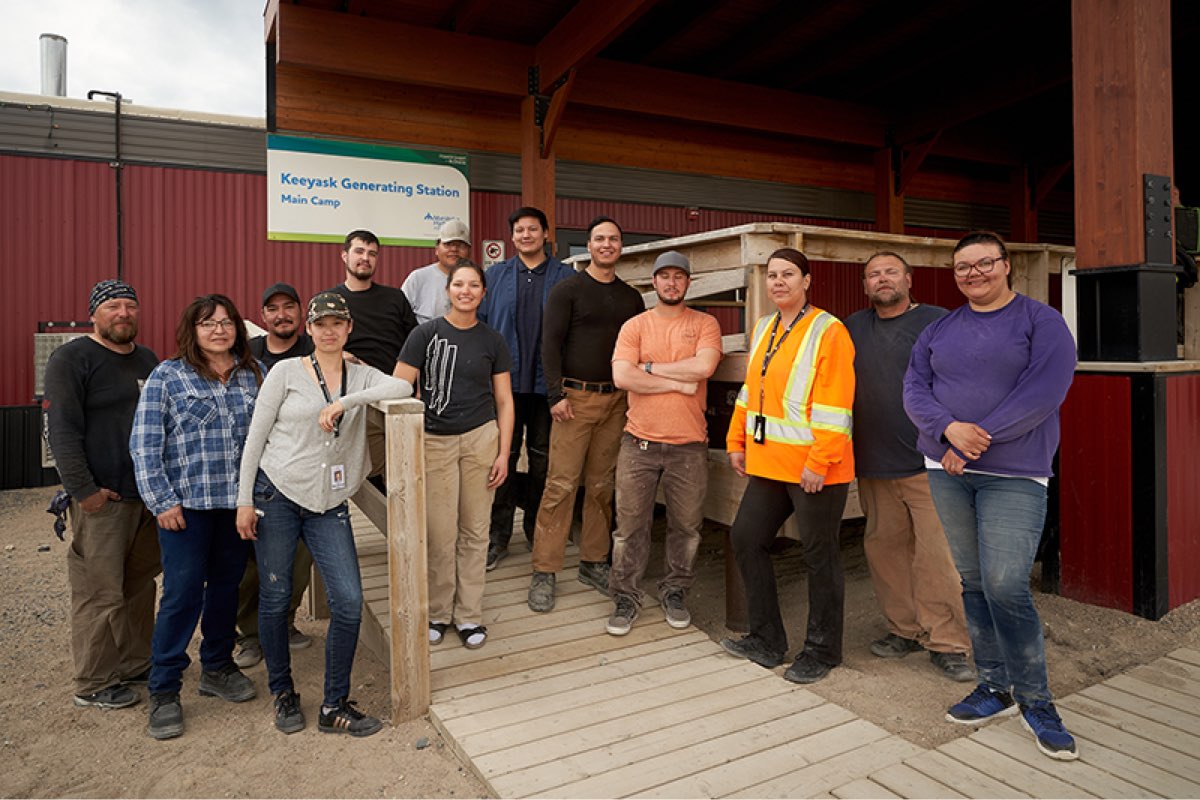 Through On-the-Job Training programs, Keeyask Cree Nation community members are gaining skills and education to advance in their professions, including the individuals here who all work in various jobs with BBE Ltd. the General Civil Contractor for Keeyask. From left: George Lundie, Monica Genaille, Sean Shlachetka, Alaina Richard, Larris Beardy, Vincent Cook, Vienna Fetterly, Brandon Head, Northwind Colomb, Evan Tumak, Francine Spence, Quentin Towns, and Lisa Mayham.
The $8.7 billion, 695-megawatt (MW) Keeyask Generating Station is scheduled to be fully operational in 2021. In addition to bringing 4,400 gigawatt-hours of clean, carbon-free renewable energy to Manitoba Hydro's supply, it's also building opportunities.
The project is a collaborative effort between Manitoba Hydro and four Manitoba First Nations – Tataskweyak Cree Nation and War Lake First Nation, York Factory First Nation, and Fox Lake Cree Nation – working together as the Keeyask Hydropower Limited Partnership (KHLP).
From the beginning of construction to March 31 2019, over 9,500 individual employees have been hired on the project. And a significant portion of those employees are Indigenous workers from Manitoba — many from the partner communities. In fact, 51 per cent of all hires on the project have been Indigenous.
A project the size of Keeyask creates many jobs and opportunities through the construction phase. With a workforce made up of Manitobans and non-Manitobans alike, Keeyask is giving thousands of people an opportunity to build and develop marketable skills on a work site larger than some small towns.

And it's not just your top-of-mind trades – it's also cooks, receptionists, housekeeping staff and facility maintenance workers.

On top of doing the on-the-ground work to keep Keeyask on track, on-the-job training (OJT) programs help provide apprenticeship and career development to people in the workplace, enhancing their skills and qualifications. Manitoba Hydro is committed to providing employment, training and business opportunities to our four partner communities.
Over 180 partner community members are building their careers through employment and training opportunities at the Keeyask site. Through OJT programs, community members have progressed to supervision or management positions in heavy duty equipment operator and rock truck driver roles. Seven people have passed the Level 1 Red Seal Cooks program; two people have graduated as primary care paramedics; two have completed the Level 1 Fitness Leader training program, one person achieved their Red Seal Heavy Duty Mechanic designation and one received their Red Seal Tower Crane Operator designation.
Watch for more stories on some of these individuals in coming editions of the Hydro Current. And to get a real sense of life at Keeyask, watch the video below. It's seven minutes, but it's like taking a trip right to the camp!